[Text|Chen Xiangdong, Chairman of Silan Microelectronics] The driver chip is a commodity, and a product can quickly become popular in a short period of time. The company has also become a brand that everyone praises and chases after a large scope. It is a kind of brand fusion effect. I believe that the rapid shaping of the brand must create this fusion, and in the field of LED driver chips, the core is high performance plus cost-effective, both are indispensable.

Some brands in the industry have recognized these issues and made positive changes. There are many keywords, and now every company is talking, such as: "customer-oriented", "innovation", "open", "cross-platform", "efficient", "flexible", "pragmatic", "aggressive" and so on.

It is difficult for us to find out which of these corporate cultures do not have these words. But when asked how many well-known brands understand the meaning of these keywords, many companies find that they have very different understandings of these keywords. Even though some brands have always claimed "customer first" and "continuous innovation", their behavior has gradually drifted away from this goal.

In the same policy and market environment, many enterprises often call for difficulties, but brand enterprises that have a market-savvy feeling can adapt to the trend, adjust their development strategies in time, and win market opportunities.

For example, they took the initiative to sell at a reasonable price and speed up the return of funds, so they still achieved good results in the market adjustment period. On the contrary, individual companies have been insisting on high-end routes for many years, and did not adjust their development strategies in time during the market adjustment period. The dilemma.

In the development process of the enterprise, there are too many marketing methods that can be used, and people are overwhelmed. Stopping the pace, pinpointing the market positioning, ensuring product quality, and shaping the long-term good user reputation are the pillars of product marketing that will last forever.

For example, our newest six-stage energy-efficient AC-DC power management chip from Silan Microelectronics. This series of chips adopts multi-mode control and optimized down-conversion working curve, and contains a number of patented technologies independently developed by Silan Micro, providing cost-effective solutions for chargers, adapters (below 65W) and other applications.

The goal of Silan Microelectronics is to take advantage of our accumulation in multiple technology fields, take advantage of our integrated production line, and be close to the market to provide users with cost-effective power semiconductors and power control and driver chips.

The Silan Smart Power Module series has significantly improved the performance of IPM products through continuous improvement in chip performance and package performance. In terms of chip performance, Silan IPM adopts the latest FS IGBT technology, and the loss of the product is optimally controlled. At the same time, the anti-noise capability of the high-voltage gate driver chip has reached a new level. In terms of package performance, we use a low thermal resistance DBC ceramic substrate structure, low temperature rise and insulation performance have a large advantage.

At the same time, we encourage innovation, have applied for hundreds of invention patents, and continue to innovate in system and IC design. In terms of cost, Silan Microelectronics, as one of the largest IDM companies in China, has its own chip design, manufacturing, and testing bases, which can control the entire process and effectively reduce costs, thereby maintaining strong competitiveness.

Rack Mounted Integrated Power Supply include Rack-mounted Power Supply 12Vdc and Rack-mounted Power Supply 24VAC.

Power Supply 12VDC is designed for 19-inch cabinet, it can be divided into Rack-mounted AC power supply and Rack-Mounted DC Power Supply.

Features:




Use of efficient, environmental protection switching power supply circuit frame

Modular 1U standard 19" rack mount chassis
Small ripple & noise -- video output signal more stable, clearly images
Splitter output : by-pass failure to protect other equipment to work
Power protection:Output over-voltage protection, over-current protection, short circuit protection

Application:

It widely used in banks, government units, buildings, office buildings, garden community, square, Factory, prison, road traffic, gas station, ship and other machine rooms, can dock intelligent APPDU system, embedded in the back-end security system management platform, is an ideal intelligent security integrated power supply and Management System.







Product Images: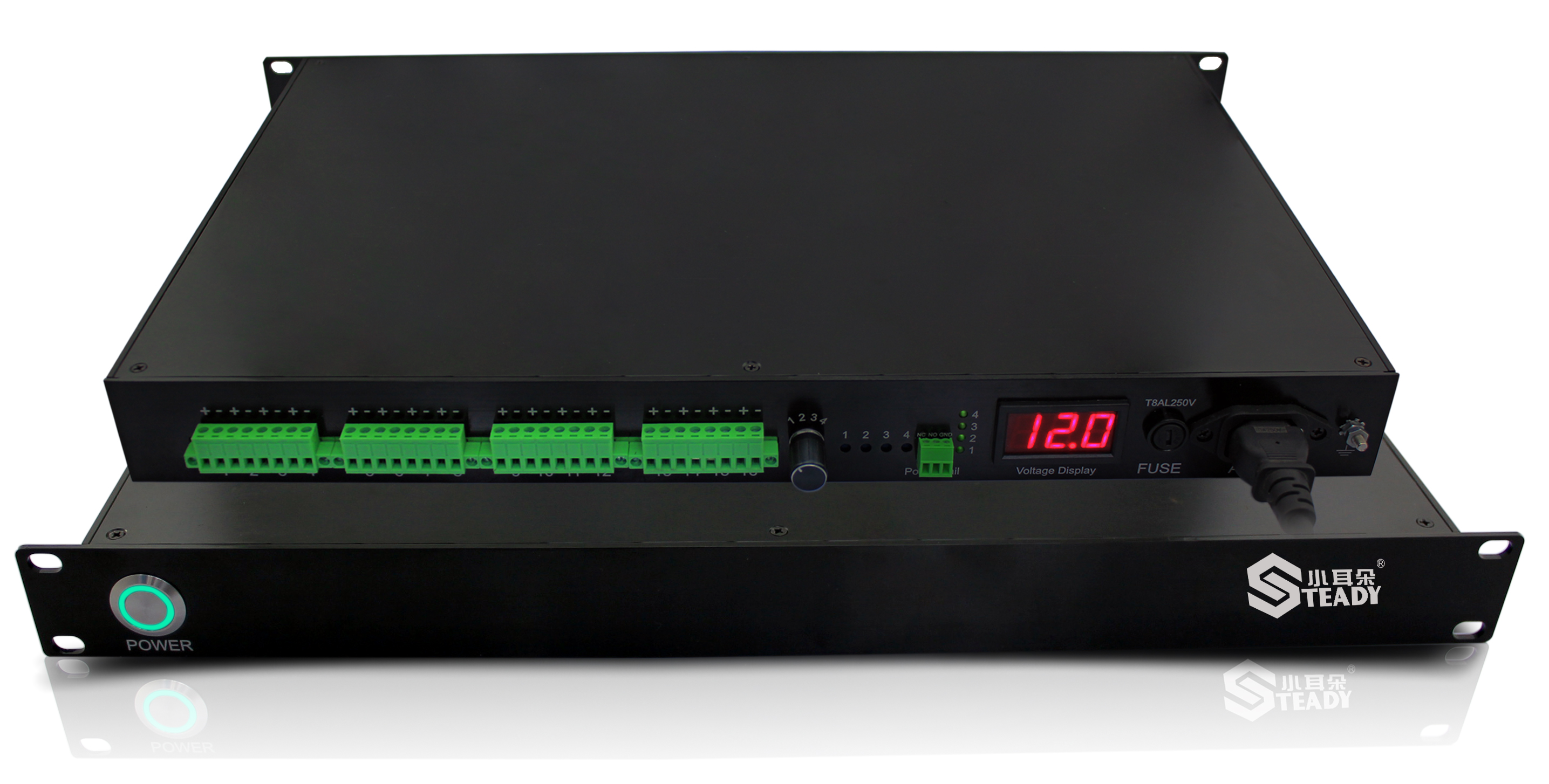 Rack Mount Power Supply,Rack Mount Power Supply 48Vdc,Rack Mount Power Supply 24Vdc,Rack Mount Power Supply 12V

Guangdong Steady Technology Co.LTD , https://www.steadysmps.com