In the future, the development direction of road lighting will also be LED lighting technology. It can be seen that the prospect of LED in domestic and global road lighting is limitless.

Although the LED road lighting prospects are considerable, there are still some difficulties at this stage, and how to develop in the future is still unknown. How to win in this game is the problem that enterprises should consider.

Core competitiveness is the key to seize the market

The domestic LED industry is mainly concentrated in Guangdong Province, LED enterprises account for about 6-7 percent of the country. According to incomplete statistics, there are over 29,000 LED companies in Guangdong Province. Therefore, LED road lighting is mainly concentrated in Guangdong Province. Due to the industrial clusters and complete facilities, Guangdong Province has great advantages in LED road lighting.

For now, I think the main difficulty of LED application road lighting is still a cognitive problem. LED has been relatively close to the people in terms of price, and quality is an important criterion for users to judge. However, because LED is an emerging industry, compared with traditional lighting products, it is still very difficult for users to distinguish their quality, especially in the initial stage of identification of chips and power lights. Now the quality of LEDs is uneven, so its market reputation is not ideal.

Whether it can have a place in the market, I think it is mainly depends on the core competitiveness of the company. LED is no longer a problem in terms of acceptance and government. If you want to take the lead in the market, enterprises should have advantages in terms of comprehensive strengths such as technology, business and capital. In addition, I think LEDs need to make breakthroughs in new technologies and new materials. In the future, the use of LEDs will be more simple and convenient, and companies must keep pace with the times.

On the standard issue, I think that there are some road lighting design standards in the country. There is no need to design a road design standard for LEDs, because no matter what kind of lamps are used, as long as the road design standards are met. For LEDs, the biggest problem now is that the quality of the products is uneven and the interface of the accessories is different, and the compatibility is poor. As for the introduction of the standard, I think the timing is still immature, because LED is a new industry, and all the standards are only developed when an industry matures. Early introduction may even restrict the development of the industry.

In the early period of Guangdong Province, a LED road lighting benchmark was also issued to provide enterprises with LED development trends and technical indicators. In addition, in order to unify the interface, Guangdong Province has also issued a standard specification for LED lighting standard components.

LED application road lighting has obvious advantages

The advantages of LED road lighting are obvious. Although the price is currently high, with the gradual regulation of the industry, the price of LED in the future is not a problem.

Like before, LEDs have advantages in small wattages, but the technology is still slightly green on large wattages, and now the wattages are mature, so with the improvement and optimization of the industry, the technology on LED road lighting There is not much problem.

The renovation and construction of road lighting is a major project. The use of LED as a light source not only ensures the use of the whole lamp is good, but also saves a lot of resources. Therefore, I believe that LED road lighting will ban all traditional road lighting sooner or later.

In terms of market conditions, LED road lighting has changed greatly from 2013 to 2014. The awareness and acceptance of LEDs in various markets have increased significantly, and the entire LED road lighting market has moved. Especially in the first half of this year, the overall sales trend of LED road lighting has steadily increased.

LED is the most ideal light source for road lighting

At present, the light sources used in road lighting mainly include metal halide lamps, xenon lamps, electrodeless lamps, LEDs, etc. Among them, LEDs and electrodeless lamps are known for their energy saving.

LED can be said to be the most ideal lighting source for road lighting. Its main advantages are energy saving and long life. LEDs are mainly available in single arrangement and integrated arrangement. Integrated LED can be said to be the most ideal light source on the market.

Landscape lights and road lighting still need to be distinguished. Landscape lights are mainly used in real estate, urban lighting, etc., which mainly play an embellishment role. The decorative function is larger than the lighting function, and the design requirements are relatively high. The road lighting is more focused on lighting, which has higher technical requirements and higher practicality.

However, there are still some technical problems in the current application of LED lighting, mainly heat dissipation problems, penetration problems, anti-fog problems, and light decay problems. In addition, LEDs are difficult to achieve high power on road lighting.

In addition to technical difficulties, LED road lighting needs to be improved in marketing ideas and means. The original model is relatively lagging behind in the now changing market.

At present, LED road lighting is very broad in the domestic market, and the market penetration rate is relatively high. However, due to the uncertainty of LED quality, it is necessary to make a breakthrough in further opening the market. At present, LED road lighting is only a single pilot, and technology is a breakthrough in the market. But I think LED road lighting is a potential stock. The wealth of the future lighting industry is here, and it will become an important development point to promote domestic demand. Because there are so many roads in China, the amount of lighting facilities that need to be applied is correspondingly large.

Cost and sales are road lighting challenges

The current technology of LED road lighting is basically mature, and the problem that needs us to consider is the chip and the driver, because this is the most critical aspect to ensure product quality. Another technical problem that needs to be broken is that I think it is in terms of light efficiency and light color. At present, LED does not have the yellow light needed for road lighting applications.

The problems encountered in LED road lighting should be mainly in terms of cost and sales.

Cost is the biggest problem encountered by enterprises entering the field of road lighting. At present, municipal projects such as road lighting have begun to adopt the EMC model, which is an energy-saving investment method that uses the reduced energy costs to pay for the full cost of energy-saving projects. This model allows users to upgrade their plants and equipment with future energy savings, reducing current operating costs and improving energy efficiency. However, this also means that the one-time input cost of the enterprise is higher, and the profit time is longer. In addition, road lighting, such as street lighting, has a high maintenance cost and is more expensive than indoor lighting.

The second is sales, which is how companies get projects. Road lighting is mainly based on municipal engineering. For individual projects, customers have different demand points. Therefore, enterprises also need to have the following conditions for entering municipal projects: First, the company's basic qualification certification, including national relevant green indicator certification, The company's basic business license, etc.; second, the enterprise must have production and construction qualifications, such as the outdoor lighting and road lighting construction qualifications issued by the state; third, the enterprise should establish relationships with the local price network, recommendation list, etc., and obtain qualifications for finalization. The fourth is the local network of contacts.

Metal shielded Power Cable consists of 6 main components: high purity conductor ;PVC or XLPE insulator; Tape; PVC inner sheath ; Steel Tape Screen shield ;PVC outer sheath.

Compared to other power cables, metal screen power cables are with higher anti-electromagnetic interference,thunder-stroke resistance, electrical potential balancing performance and power supply improvement.

Standard

This cable is manufactured according to standard of GB/T12706.We also could arrange production according to clients local request standard.

Application

This cable is applicable to power transmission and distribution line with rated voltage up to and includes 0.6/1KV,such as

l Network computer center

l Information management center

l Aerospace control center

l Intelligent building

Using features

l Max. permissible continuous operating temperature of the conductor: 70℃/90℃.

l Max. temperature of conductor during short-circuit (5s maximum duration) shall not exceed 160/250℃.

l The ambient temperature under installation should not below 0℃.

l The bending radius of a single-core non-armored cable: not less than 20 times of cable`s OD

l The bending radius of a single-core armored cable: not less than 15 times of cable`s OD

l
The bending radius of a multi-core non-armored cable: not less than 15 times of cable`s OD.

l The bending radius of a multi-core armored cable: not less than 12 times of cable`s OD .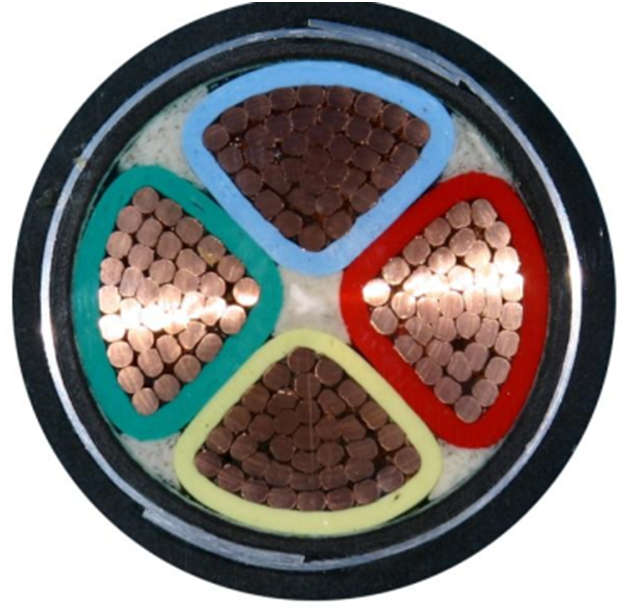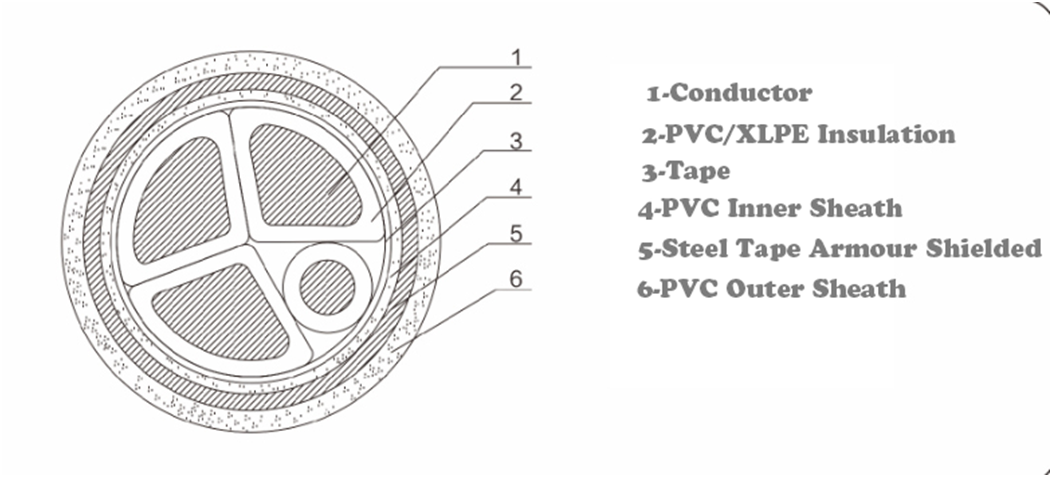 Packing

Packaging: carton packing, pallet packing, wooden steel drum, wooden/plastic reels, or as request.

Delivery length of cable depends on both agreements but with min length no less than 100meters.

WHY CHOOSE US?

1. OEM service is available based on official & legal authorization.

2. Strict quality control system.

3. Sufficient support for our tendering representatives.

4. Faster lead time than our competitors.

4. Professional Cable solutions to your particular requirements.

5. Free sample is available with economic express fee.

6. Excellent quality with reasonable price.

7. Strong technical support (technical data, drawing, etc.)

FAQ

Q: Are you a factory or trading company?
A : Yes!We are a manufacturer professional in manufacturing electrical wires/cables for decades.

Q: Where is your factory? Can I visit there?

A :Our factory is located in Minqing,Fujian.

You could choose to fly to Xiamen/Fuzhou International airport.

And tell us your flight No. We will arrange to pick you up if you like.

Q: May I buy samples from you?

A: Yes! You are welcome to place sample order to test our superior quality and services.

Q: Can you put my brand name (logo) on these products?

A: Yes! Our factory accepts OEM services by authorization.

Q: May I know the status of my order?

A: Yes !The order information and photos at different production stage of your order will be sent to you and the information will be updated in time as you request.

We would like to offer you professional cable solutions to your particular requirement. And OEM service is available based on official and legal authorization. Please do not hesitate to contact us for more details.

Metal Shielded Power Cable,Electrical Shielding Power Cables,PVC Insulation Shielded Cables,XLPE Insulated Shielded Cables

Smartell Technology Co.,Ltd , http://www.liencable.com